Domain Registration Services - about us
One of Australia's longest established accredited domain registrars, we also provide email and web hosting solutions. Our company has continually delivered excellence in online and website address services to tens of thousands of local and international Internet businesses, organisations and individuals for nearly two decades.
Domain Registration Services is a trading name of Domain Name Registrar (Australia) Pty Ltd.
We are a wholly Australian owned and operated web address registrar, located in Australia and officially accredited by the .au Domain Administration (auDA). The auDA is the Australian not-for-profit organisation that operates and oversees the .au name extension for the benefit of all stakeholders, including licensing registrars for Australian domain name registration.
We have been providing consultancy, domain registration and Internet presence solutions to Australian business since 1998 and have been under the same ownership for our entire history - there are few domain registrars around today that can make that claim.
Our nineteen-year history of excellence in serving the Internet presence needs of tens of thousands of international and Australian corporate and private clients makes us one of the most trusted names in website address management services in Australia.
We are also an auDA Information Security Standard (ISS) Certified registrar.
.au and international domains services
In addition to providing registration of Australian .com.au, .net.au, .org.au, .asn.au and .id.au extensions; you can also search and register domain names ending in .com, .net, .org, .info, and .biz through our services.
More than just a domain registrar - web hosting
We also specialise in providing fast, reliable and professional email hosting and full website hosting to thousands of businesses around Australia; saving our valued customers from having to search for quality web hosting elsewhere.
As business and corporate hosting is a special focus for us, we pay particular attention to not only speed and reliability, but also to security. We offer free backup and cutting-edge anti virus and spam protection tools to dramatically reduce online threats to our business clients.
We're just a phone call or email away
Whether you are a hobbyist, small business owner starting out and looking for a simple web presence, a company needing a dependable corporate platform, or you are an advanced website developer searching for a rock solid accredited Australian registrar; you will find we have the services, tools, features, staff and expertise to help you every step of the way in your online efforts.
Whatever your web address or business web hosting needs are, depend on us to deliver the quality you deserve from a fully accredited registrar - your search is over! Buy with confidence from one of Australia's longest-established companies in the domain name sector.
Vodien Australia Pty Ltd
Trading as
Domain Registration Services
ABN 97 117 578 613
Postal Address:
PO Box 6219, Alexandria NSW 2015
Telephone:
1300 863 436
Website :
www.domainregistration.com.au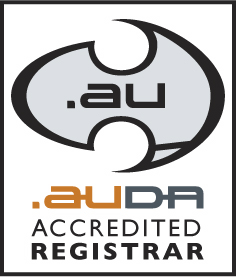 .AU ADMINISTRATION
Accredited Registrar
Available Domain Name Search & Register
How to register a name: Enter your choice in the search tool and click 'GO'. If after the check the domain names search results show your choice is available, you will then have the option to proceed to purchase registration; which is a very quick and easy process - start a search and find your ideal website address now.